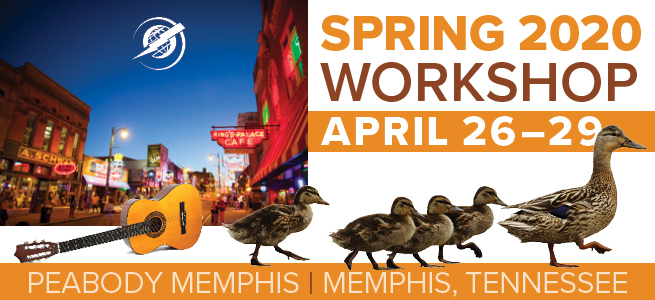 EUCG 2020 Spring Workshop
Peabody Memphis
April 26-29, 2020
Memphis, Tennessee
The EUCG Spring 2020 Workshop is headed to Blues City for the best in benchmarking, best practices, emerging issues, and more! Join us April 26-29 at the historic Peabody Memphis for our semi-annual workshop and benefit from significant opportunities for networking and idea exchange with industry thought leaders from around the globe against the backdrop of legendary Memphis, Tennessee.
Select sessions from previous workshops include:
FP5 – Gas and Small Plant Crew Work Strategies
HP12 – Results of the 2019 Staffing, Property Insurance and Benefits Surveys
NC2 – Commercial Factors Affecting Nuclear Power
SC3 – Hazardous Material Detection for Modules
TD3 – Innovation – The Gamification of the Balance Scorecard
View the full Fall 2019 program.
Program Information
Sunday, April 26
5-7pm
Event Registration & Welcome Reception
Hernando de Soto Room
Monday, April 27
7-8am
Breakfast
Hernando de Soto Room
8-9:30am
General Session and Keynote Speaker
Venetian Ballroom
9:30-10am
BREAK
10am
Committee Sessions Begin
Agendas
Fossil Agenda
Hydro Agenda
Nuclear Agenda
Solar Agenda
T&D Agenda
Registration

Your registration fee includes breakfast, lunch, and breaks for the duration of the event, the Welcome Reception on Sunday, April 26, and the Monday Evening Networking Event.
Guest registration is available for $175, and includes the aforementioned meals and events. To register/add a guest, select the "Spouse/Guest" option on the registration form.
Early Bird Rate (before March 28): $975
Regular Rate (after March 28): $1025
Keynote Speaker
To be announced.
Hotel Information
The Peabody Memphis
118 S 2nd St
Memphis, TN 38103
USA
Phone: +1 901-529-4000
Check-in: 4pm
Check-out: 11am
Self-parking: $24/day
Valet parking: $33/day
Lodging
EUCG has reserved a limited block of discounted hotel rooms at the Peabody Memphis for Fall Workshop attendees. Hotel reservations must be made by March 25, 2020 to access the group rate.
Group Rate: $230
Government Rate: $123

To book a government rate room, contact Juliana Gordon at gordon@eucg.org or +1 703-234-4144.
Please contact the Peabody directly with any additional rooming questions at +1 901-529-4000.
Monday Evening Networking Dinner Event
To be announced.
Event App
EUCG will once again be providing an event app in order to provide you with the latest program information directly to your mobile device! Stay tuned for more information.