Nuclear Committee
**Please note each committee database site has a new URL. The Nuclear Committee Database Web Site can be accessed at http://committee.eucg.org/nuclear/products/nuclearcommittee.asp **
Welcome to the EUCG Nuclear Committee
The EUCG Nuclear Committee is a cooperating group of nuclear plant representatives. Their primary goal is to optimize costs and reliability performance of participating plants. Membership currently includes representatives of nuclear plants operating in the United States, Canada, China, France, Japan, Mexico, Netherlands and Spain.
To achieve these objectives, the Nuclear Committee operates a database for comparing nuclear plant costs, staffing, and performance data. This database was originally developed in 1986 and it has come to be recognized as the best, most comprehensive source of nuclear plant data in the world. This database is updated annually and distributed to participating members. The database includes:
Plant and Unit Performance and Cost Data
Nuclear Operating Cost Data — Base and Outage
Capital Cost and Capitalization Policy Information
Staffing Information
All data is requested via a web-based program. Data is delivered to participants on a give-to-get basis via a web-based query and reporting tool.
Committee Vision:
To be the recognized industry source for economic and performance information used by member companies to improve plant and industry performance.
Committee Mission:
To provide a professional forum to promote the exchange of up-to-date and relevant nuclear power plant performance and cost-related information among nuclear utilities globally. The intent of the information exchange is to facilitate sustained cost effectiveness and competitiveness of nuclear utility operations to ultimately benefit global electricity consumers.
Committee Products:
Click here for the committee's Sample Report Package.
Committee Services:
Click here for the Survey Overview.
Click here for the NIID Overview.
Benefits of EUCG Nuclear Committee Membership:
Click here for the Benefits of EUCG Nuclear.
Committee Leadership: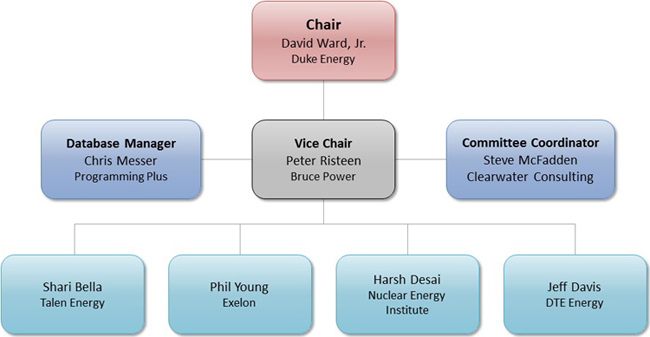 Committee Guidance Documents:
Please log into the Nuclear Committee Members-Only pages to view this information.
Committee Membership Categories and Fee Structure:
| | | | |
| --- | --- | --- | --- |
| Nuclear Committee Fee Structure | Data Members* | Forum Members | Affiliate Members |
| EUCG Administrative Fee | $ 1,700 | $ 1,700 | $ 1,700 |
| Nuclear Committee Fee | $ 3,800 + $ 325 per unit | $ 1,000 per owner | $ 3,800 |
| Total Membership Fee | $ 5,500 + $ 325 per unit | $ 2,700 | $ 5,500 |
* Includes registration for one person attendance at each of the biannual workshops.
Data Members: Those members who provide data per the annual schedule.
Forum/Member Owner: Owners or co-owners who do not operate commercial plants
Industry Affilliate or Alliance Member: Related industry organizations or businesses
Committee Annual Planning Calendar:
EUCG Nuclear Committee Key Events and Deliverables
Early Data Exchange

Data is requested in January with results released in February

CNO (Chief Nuclear Officer) Report

CNO Report mailed to all participating company's Chief Nuclear Operating Officers in February

Comprehensive Survey Detail

Data is requested in January with data audited in March

Spring Workshop

3-day meeting of all members in March/April (see www.eucg.org for more details)

Nuclear Integrated Information Database (NIID)

NIID released to all participants in May with updated release in August

Comprehensive Benchmark Report

Released to all participants with comprehensive data in report/graph format in June

Fall Workshop

3-day meeting of all members in September/October (see www.eucg.org for more details)
Committee Database/Members Only URL for link
Click here to access the committee database and other members-only information.
Promotional Materials:
Current promotional materials for EUCG Nuclear Committee include: