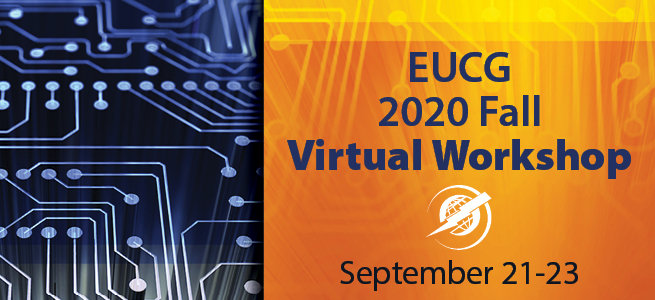 EUCG's Fall 2020 Workshop Goes Virtual
Due to the ongoing health crisis and related travel restrictions, EUCG's 2020 Fall Workshop is going "Virtual". While we all wish that we could meet together in-person, we know that travel for our members is not practical at this time.
EUCG's committees have worked very diligently to put together agendas that are dynamic, timely, and will provide real value to our membership in best practices, benchmarking, and related topics.
The EUCG Board of Directors have made the important decision that there will be NO REGISTRATION FEES associated with the Fall 2020 Virtual Workshop. This decision was made to thank our member companies for their continued dedication to EUCG and to make sure that we can maximize participation. We encourage all of our members to invite their colleagues at their companies to attend one or more sessions of interest and have people that normally could not attend to the workshop to register and participate. What better way to demonstrate the value of your EUCG membership than to spread the word around your company and have your colleagues participate.
Another important change that you will see on the Workshop Program is that many sessions on Monday, September 21st are "Open Sessions" to all members of EUCG and not just limited to members of the committee. What better way to see all that EUCG has to offer by seeing what is happening in other EUCG committees. Again, we encourage you to invite your colleagues to attend these open sessions. All "Open Sessions" are clearly marked in the Workshop Program.
Keynote Panel Discussion — POWERING THROUGH COVID-19
| | | |
| --- | --- | --- |
| Angie Gibson | Steve Putnam | Howie Rose |
We are delighted to have three leading experts for a Keynote Panel Discussion "Powering Through COVID-19". Angie Gibson (PG&E), Steve Putnam (Duke Energy), and William Howard "Howie" Rose (TVA) will share their experiences with their companies' responses to COVID-19 and the plans that were in place to handle the pandemic. The panel will share lessons learned, success stories, and future preparedness measures.
The panel will be moderated by EUCG Board of Directors Vice President Jesse Medlock of Oncor Electric Delivery.

Registration Information
To register for the workshop, please email Don Kaiser at kaiser@eucg.org or Lindsay Stranzl at lstranzl@eucg.org. All registrants will receive a customized itinerary by email with complete meeting links and information for all days of the workshop. If you do not receive an email with this information, please contact Don or Lindsay via email.
EUCG Anti-Trust Policy
Click here to download the anti-trust policy.
Virtual Workshop Technology
EUCG is committed to providing every attendee the best workshop experience possible in this virtual setting. EUCG will be using Webex to host the Fall 2020 Virtual Workshop. Webex is a popular, dynamic, and secure application for hosting virtual meetings. Many of you may already be familiar with, and use Webex. We have created instructions and tutorials to assist you in getting familiar with the application. We have been actively working with each committee to prepare meeting hosts and presenters, and will be offering the same training to any attendee who would like to be walked through the basics of a Webex meeting. Please check back for dates and times for training. Our goal is to make sure that everyone who is attending the Virtual Workshop is comfortable and confident with Webex, and that each session flows seamlessly and smoothly.
Webex Tutorials and Instructions for Attendees