2017 Fossil Outage Forum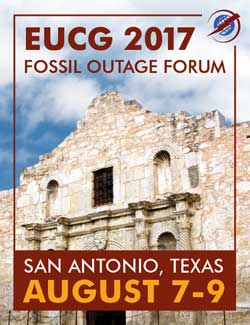 The 2017 Fossil Outage Forum Workshop will be August 7-9 in San Antonio, Texas. Workshop sessions will be held at CPS Energy's main office at:
145 Navarro
San Antonio, TX 78926
The workshop will provide a forum for outage management peers to exchange experiences, best practices, and ideas related to current and emerging issues associated with outage planning and execution.
The meeting will begin on the afternoon of Monday, August 7, followed by a "meet and greet" reception in the evening. Workshop sessions will continue through the next day and will adjourn at 12:00 noon on Wednesday, August 9.
Registration
The workshop registration fee for delegates from EUCG member utilities is $385. The fee for delegates from non-member organizations is $450. Registration includes meeting materials; the reception on August 7; and breakfast, lunch, and breaks while the workshop is in session. The deadline for workshop registration is Monday, July 24, 2017.
To register, please download the registration form here and submit completed form to sanders@eucg.org.
Hotel Reservation Information
The Hotel Contessa is located just across the river from CPS Energy's main office at 306 West Market Street. The room rate is $179/night (plus applicable taxes) for single or double occupancy and includes complimentary internet access, access to the business center, and complimentary access to the hotel's pool and fitness center. Parking is not included. Note that the rate is offered on a space-available basis and applies as long as the hotel has rooms in inventory.
To make a reservation at The Hotel Contessa at the CPS Energy rate, please contact the hotel directly at (210) 229-9222 or toll-free (866) 777-3384, or on-line at www.thehotelcontessa.com. To secure a hotel room at the CPS Energy corporate rate, use the code CPS at the time of your booking. For additional hotel information and assistance, please contact joyce@cookjackson.com or sanders@eucg.org.
Additional Information
If you have any questions or need any additional information, please feel free to contact Joyce Jackson at Cook-Jackson, Inc., by telephone at (512) 380-0878, by cell at (512) 965-0722, or by E-mail at joyce@cookjackson.com.