EUCG Fall 2017 Workshop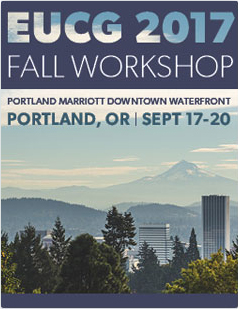 The EUCG Fall 2017 Workshop will be held at the Marriott Portland Downtown Waterfront September 17-20 in Portland, OR. Take advantage of plentiful opportunities for industry education, training and networking while experiencing the unique city of Portland.
This page will be updated as information becomes available, so please check back often!
Registration
Registration can be completed online by clicking here.
Registration can also be completed by downloading the Registration Form here and emailing the completed form to gordon@eucg.org of faxing form to 703-435-4390.
The Early Registration Discount will expire on August 26, 2017, so don't delay, register today!
Hotel Reservation Information
We are excited to have our Fall 2017 Workshop at the Portland Marriott Downtown Waterfront. Enjoy the waterfront views and unique vibe of Portland and easily travel downtown to explore a variety of dining and entertainment options.
EUCG has reserved a block of rooms for EUCG Fall 2017 Workshop Attendees at the rate of $214/night. This rate is available until August 26, 2017 OR until the EUCG block is sold out. In addition, we have secured a limited number of Government Rate rooms at $169/night (or the prevailing government rate at the time of reservation).
Hotel reservations can be made by clicking here or by calling the hotel directly at 877-901-6632.
Don't forget to mention your attendance in the EUCG Fall 2017 Workshop at the time of reservation!
Keynote Speaker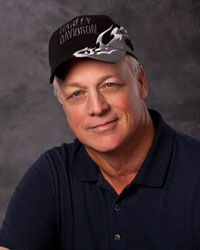 We are excited to have Gary Norland, renowned safety speaker, kick off the workshop with the general session keynote.
The impact of an injury "What are you risking"? Your Life... Have you considered your family, coworkers, community? There is a ripple effect!
Gary's message and story is straight from the heart and he tells it like it is. He will share his real life safety experience about being electrocuted by 200 amps, 12,500 volts. Fire and electricity shot out of his body in fifteen places resulting in electrical burns over 37% of his body. He has had so many surgeries that he has lost count, well over fifty.
Gary's mission is to explain the reality of life after an accident and the importance of taking safety seriously. Life as Gary knew it changed in less than a second when he suffered an injury that could have been prevented. Gary explains how his choice to avoid the use of proper safety equipment and rushing the clock cost him his independence. His vivid photos leave nothing to the imagination of the reality of an injury. The audience will leave impacted by his story and will make intentional changes to their safety awareness.
Gary always says "This is REALITY! IT CAN HAPPEN TO YOU!!!"
Monday Evening Networking Dinner Event

Explore the story of Pompeii and the eruption of Mount Vesuvius at the Oregon Museum of Science and Industry. Enjoy specially crafted cuisine after touring the museum, and network with international electric utility leaders. The evening will feature private access to the museum, drinks, dinner and dessert.
Be sure to join us for an evening full of networking, food, and history!
Preliminary Program Information
Please note that the agendas are subject to change before the Workshop date.