EUCG Fall 2017 Workshop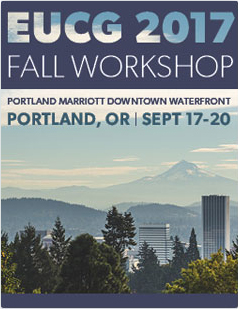 The EUCG Fall 2017 Workshop will be held at the Marriott Portland Downtown Waterfront September 17-20 in Portland, OR. Take advantage of plentiful opportunities for industry education, training and networking while experiencing the unique city of Portland.
This page will be updated as information becomes available, so please check back often!
Registration
Registration can be completed online by clicking here.
Registration can also be completed by downloading the Registration Form here and emailing the completed form to sanders@eucg.org of faxing form to 703-435-4390.
The Early Registration Discount will expire on August 26, 2017, so don't delay, register today!
Hotel Reservation Information
We are excited to have our Fall 2017 Workshop at the Portland Marriott Downtown Waterfront. Enjoy the waterfront views and unique vibe of Portland and easily travel downtown to explore a variety of dining and entertainment options.
EUCG has reserved a block of rooms for EUCG Fall 2017 Workshop Attendees at the rate of $214/night. This rate is available until August 26, 2017 OR until the EUCG block is sold out. In addition, we have secured a limited number of Government Rate rooms at $169/night (or the prevailing government rate at the time of reservation).
Hotel reservations can be made by clicking here or by calling the hotel directly at 877-901-6632.
Don't forget to mention your attendance in the EUCG Fall 2017 Workshop at the time of reservation!
Preliminary Program Information
Please note that the agendas are subject to change before the Workshop date.