EUCG Technology Solutions Committee
**Please note each committee database site has a new URL. The Technology Solutions Committee Database Web Site can be accessed at http://committee.eucg.org/IT/Survey/ITsurvey.asp **
Committee Vision:
To become the utility industry's premiere source for benchmarking and analysis of IT costs and performance metrics and to provide the forum for IT Leaders to share and discuss emerging technologies, best operating practices, in-sourcing and out-sourcing trends and business — technology integration.
Committee Mission:
The mission of the Technology Solutions Committee (TSC) is
to enable more informed enterprise-wide IT business decisions based on relevant and timely information
by providing structured benchmarking comparisons, shared best practices, and access to industry participants
Committee Products:
Annual Cost Benchmark Database — A warehouse of the IT cost and performance data in a user-friendly software tool to assist users in retrieving the raw data for customized reports and trend analysis.


Data Dictionary — a dictionary to define twelve cost towers (Voice, Network ,LAN/WAN, PC, Help Desk, Mainframe, Computing Services, UNIX servers, Wintel servers, Storage servers, Admin/Back Office, Application Development, and Application Support.


Ad hoc Surveys — process and structure to ask questions any non cost topic


Standard Benchmarking Report — A compiled set of standard benchmarking report which provides members more time for analysis of the data and less time constructing graphs and charts.


Committee Services:
Database management, Survey management
Committee Leadership:
Committee Guidance Documents:
None.
Committee Membership Categories and Fee Structure:
| | | | |
| --- | --- | --- | --- |
| Technology Solutions Committee Fee Structure | Data Members | Forum Members | Alliance Members |
| EUCG Administrative Fee | $ 1,700 | $ 1,700 | $ 0 |
| Technology Solutions Committee Fee | $ 4,000 | $ 2,000 | $ 0 |
| Total Membership Fee | $ 5,700 | $ 3,700 | $ 0 |
Data Members: Those members who provide data per the annual schedule.
Forum/Member Owner: Owners or co-owners who do not operate commercial plants
Industry Affilliate or Alliance Member: Related industry organizations or businesses
Committee Annual Planning Calendar: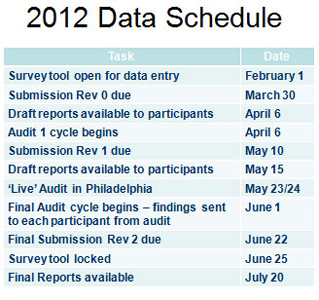 Committee Database/Members Only URL for link
Click here to access the committee database and other members-only information.
Promotional Materials:
Demographics